Awesome. That's how one employee described SherWeb's annual Christmas party this year.
We celebrated the success of 2014 and looked ahead to all the exciting things that are coming up for SherWeb next year. Employees and management alike showed their appreciation for a job well done. Everyone was happy to spend time together, meet their colleagues' significant others and simply have fun. There were also some great moments of just goofing off.
"This Christmas party was awesome" – Jayson-Micheal Roy, customer support
The event started out with cocktails, courtesy of SherWeb, in a winter wonderland on Mount Orford. Nicolas Massé, a local artist, set the tone for the evening with a light show set to a resounding dubstep beat. Next up was a beautiful homage to the company founders, Peter and Matthew Cassar. Several SherWeb employees had been secretly working on this presentation since July. Even their immediate superiors didn't know what they were up to! Obviously, Peter and Matthew didn't know what to expect. You can imagine their surprise when they saw their mentor Paul Gobeil and close associates on the screen!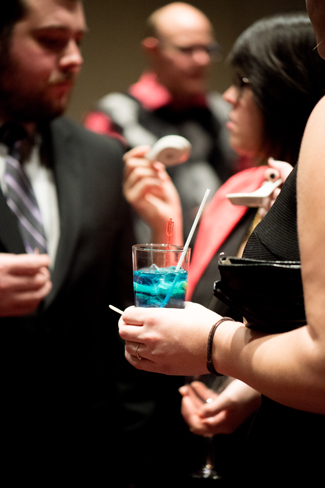 Then came the Gala Reconnaissance, which highlights exceptional employees for their work and efforts throughout the year. The gala has four categories; Peer Appreciation, Appreciation from Your Immediate Supervisor, Work Performance and Years of Loyalty. Prizes are handed out to the winner of each category in each of the company's departments. The prizes are designed to reflect the work done in a specific category. For example, the winner in the Work Performance category won a spa getaway weekend for two. For Peter and Matthew, this is an opportunity to underline the work done by SherWeb employees throughout the year. It's important for them to take a few minutes to personally congratulate nominees and winners every year.
"I was very moved when I got on stage to receive the Peer Appreciation prize. It is a beautiful mark of recognition." Renée St-Pierre, financial operations
The white snow was glistening in the moonlight as employees ate their supper and later visited the photo booth. After the meal, a special gift draw was held with prizes such as a 55-inch intelligent television with integrated Wi-Fi offered by SherWeb. The social committee also had a few surprises up its sleeves, which were mischievously disguised in fruit-snack boxes!
Then the dancing started complete with a light show and DJ who played great music. Good times ensued and continued until the wee hours of the morning.
SherWeb's annual Christmas party is organized by the company's Social Committee and the executives. The members on the subcommittee this year were Amélie Codère and myself. We would like to thank everyone who helped make this event a success.
Take a look at the party photos here. And, if you want to join our team, visit our career page from time to time! Maybe we'll see you at next year's Christmas party!
The post Partyin' à la SherWeb! appeared first on SherWeb.